There are many options when choosing what kind of hardwood floor you want for your home. One may wonder how to decide. Well, it all depends on what you're looking for. Ultimately, you want to use what best suits your likes and needs. Faifer & Co. recommends mesquite wood for homeowners who value both beauty and durability.
There is no denying there are many types of wood floorings, highly recommended by a lot of experts. Some floors are made out of naturally strong wood that can withstand the test of time. Others are engineered wood floors that are made to be more resilient to humidity. Check out this article to find out more about solid or engineered hardwood.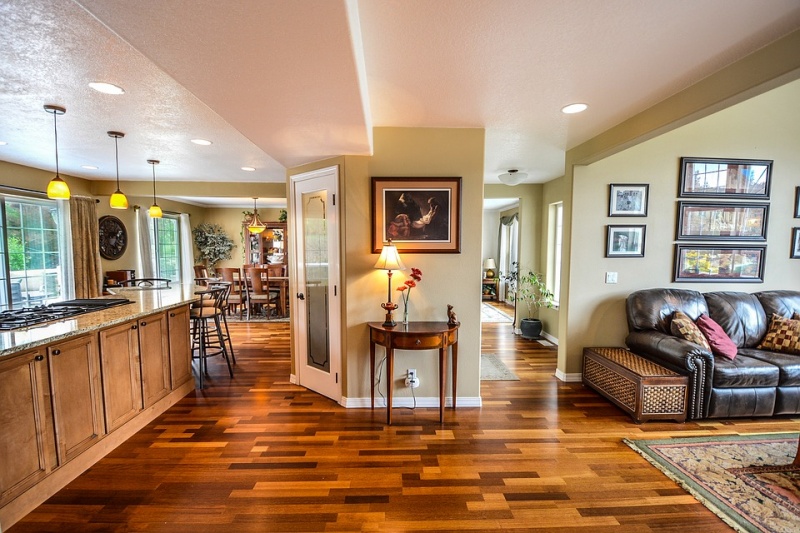 In between, there is a whole range of wood flooring you would like to look at. In this instance, we will be covering hardwood floor species like Cherry, Walnut, Oak, Maple, Hickory, Bamboo and our favorite Mesquite. Here is a bigger, broader list you can take a look at!
Cherry
Cherry has a fine, straight grain with red to pinkish hues. While American Cherry is more medium-toned, Brazilian Cherry is darker cherry-tone and, surprisingly, one of the few hardwoods that will darken with age. Brazilian Cherry is rigid and thus durable. Just like Mesquite wood, both scored above the 2000 Janka Hardness Scale.
Walnut
Walnut colors range from chocolate brown to yellow. It has long straight to wavy grains. It typically coated with a clear finish to bring out the grains, which create depth. It's usually associated with antique style furniture. While both, American Black Walnut and Brazilian Walnut species, are considerably strong in the Janka Hardness Scale, American Black Walnut it's relatively softer at 1010 Janke Hardness scale than Brazilian Walnut and Mesquite. Brazilian Walnut is one of the hardest species with a 3680 rating!
Oak
White Oak, Red Oak, Tasmanian Oak. The most commonly used are either Red or White Oak. Red Oak has red/pink undertones while White Oak and Tasmanian Oak have yellow/ golden undertones. Since Oak is naturally light, they can be stained to the tone you'd prefer. Oak is grainy; Red Oak tends to have stronger graining than the smoother White Oak; they have tiger-stripe grain or water-like swirl patterns respectively. In the Janka Hardness Scale, the three are around the 1300s.
Maple
Rating 1450 on the Janka Hardness Scale, Hard Maple is considered very durable. Maple has a very light, creamy color with sometimes reddish or gold grain tint. Because of its light color, it takes well to color stains. It usually has a long soft grain but in rare instances, it can have different grain appearances like Bird's Eye Maple.
Hickory
Hickory has a very light, creamy color tinged with medium brown patches. It has long, brown, grain streaks with a couple of swirls. Hickory has a very strong rating 1820 on the Janka Hardness Scale. It's shock resistant and it used on other things like sporting goods or fishing rods.
Bamboo
This new "green" alternative is being considered more nowaday. Bamboo is classified as grass. Since it matures in five years, bamboo sources are replenished much faster. If manufactured correctly, Bamboo floors can be as has as Oak floors. In-depth research is recommended if you're choosing bamboo floors in order to purchase good quality and long lasting floors.
Mesquite
In contrast, Mesquite is among the strongest wood species, rating 2345 on the Janka Hardness Scale. This makes it a great contender against other woods for high-traffic areas and can withstand the test of time.Mesquite has reddish to brown colors with its sapwood being more yellow-toned. Mesquite will darken as it ages. It has straight to wavy grain, with knots or other irregularities which make Mesquite very unique and attractive. Honey Mesquite is native to North America while Black Mesquite is from the Gran Chaco region of South America. Black Mesquite is medium to chocolate brown and can be just as coarse and Honey Mesquite. There are many, many more species for flooring and you can explore them, here.In the end, it's up to you but, if you're looking for warming, red-toned floors that can withstand generations of family steps and is manufactured in the U.S. we will recommend Faifer & Co. Mesquite wood floors.
Sources:
https://www.mohawkflooring.com/flooring/hardwood/about-hardwood
http://www.wood-database.com/
http://www.woodworkerssource.com/shop/category/Mesquite.html
http://www.hoskinghardwood.com/Department/Hardwood-Floors/Choosing-a-Hardwood-Flooring-Wood-Species.aspx?dId=7&pageId=40#maple
http://www.sanjosehardwoodfloors.com/eco-friendly-bamboo-flooring