Products » Live Edge Slabs
All of our mesquite slabs undergo a careful drying and cleaning process to maintain its natural warmth and detail. We have taken a photo of each slab front and back for you to view. Please note that if you break a bookmatched set the price will increase. Click on the buttons below to view available products in each rack.
Contact Faifer and Company, Inc. to place your order.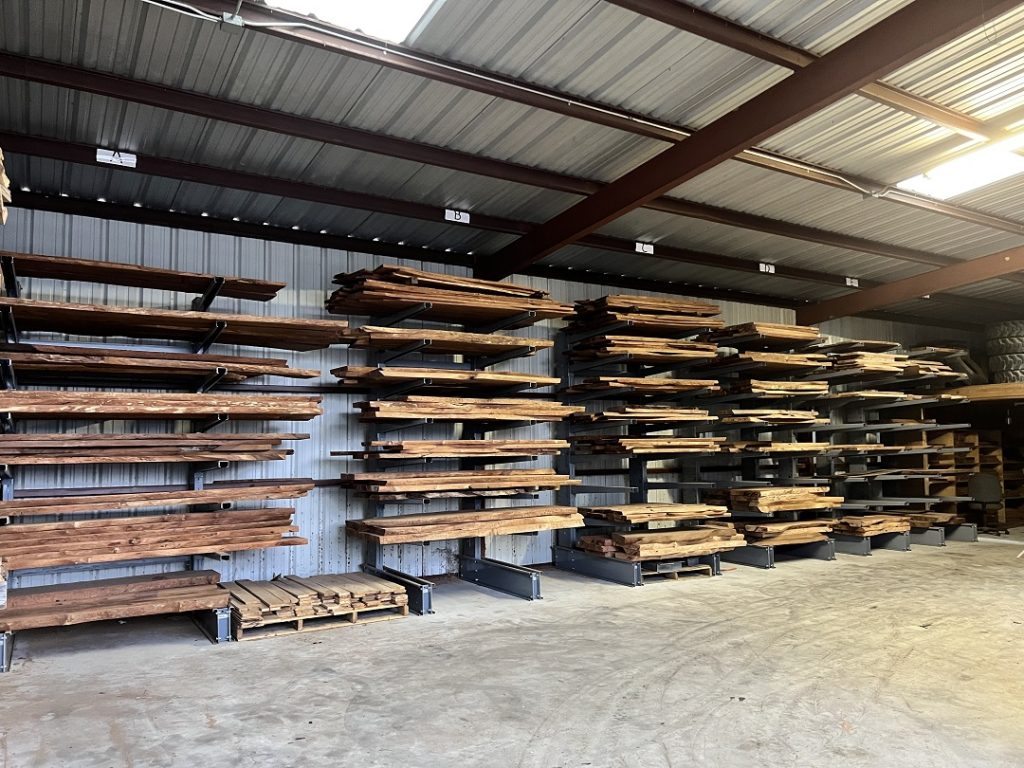 Rack A
96"+
Species: Mesquite
Thickness: 2″ 
Average Width: 16 3/4″
Length: 123 3/4″
$1097.51
Species: Mesquite
Thickness: 2″
Average Width: 16 3/4″
Length: 108 3/4″
$964.48
Species: Mesquite
Thickness:  2″ 
Average Width: 15 1/2″
Length: 104 1/2″
$762.01
Rack B
72″ – 95″
Species: Mesquite
Thickness:  1″ 
Average Width: 10 1/2″
Length: 94 1/8″
$105.56
Species: Mesquite
Thickness:  1″ 
Average Width: 11 1/2″
Length: 85 1/2″
$105.02
Species: Mesquite
Thickness: 1 1/2″ 
Average Width: 12 1/2″
Length: 85″
$240.83
Rack C
48″ – 71″
Species: Mesquite
Thickness: 1 1/2" 
Average Width: 10 1/4″
Length: 51 1/4″
$123.12
Species: Mesquite
Thickness: 1 1/2″
Average Width: 9 1/2″
Length: 59 1/2″
$163.39
Species: Mesquite
Thickness: 1 1/2″
Average Width:  8 3/4″
Length: 68 1/2″ 
$70.24
Species: Mesquite
Thickness: 1 1/2″ 
Average Width: 17 3/4″
Length: 71″ 
$295.37
Species: Mesquite
Thickness: 1 1/2"
Average Width: 13 1/2″
Length: 69 3/4″
$272.19
Species: Mesquite
Thickness: 1 1/2″
Average Width: 19 1/2″
Length: 50 1/4″
$124.40
Species: Mesquite
Thickness: 1 1/2"
Average Width: 20 3/4″
Length: 50 3/4″
$133.69
Species: Mesquite
Thickness: 1 1/2″
Average Width: 19 3/4″
Length: 51 3/4″
$92.27
Species: Mesquite
Thickness: 1 1/2"
Average Width: 12 1/2″
Length: 65 1/2″
$155.96
Species: Mesquite
Thickness: 1 1/2″
Average Width: 15 1/4″ 
Length: 54 1/2″
$105.51
Species: Mesquite
Thickness: 1 1/2″
Average Width: 13 1/2″ 
Length: 52 3/4″ 
$64.29
Species: Mesquite
Thickness: 1 1/2″
Average Width: 14 1/4″ 
Length: 52 1/2″
$67.54
Species: Mesquite
Thickness: 2 1/2″
Average Width: 16 1/2″ 
Length:  65 1/4″
$420.56
Rack D
48″ – 71″
Species: Mesquite
Thickness: 1 1/4"
Average Width: 10 1/4″
Length: 48 1/4″ 
$96.59
Species: Mesquite
Thickness: 1 1/4"
Average Width: 13 1/2″
Length: 48 1/2″ 
$127.88
Species: Mesquite
Thickness: 1 1/4"
Average Width: 10 1/4″
Length: 51 3/4″ 
$51.80
Species: Mesquite
Thickness: 1 1/4"
Average Width: 8 1/4″
Length: 52 1/2″ 
$84.59
Species: Mesquite
Thickness: 2″ 
Average Width: 18 3/4″ 
Length: 52 1/2″
$230.78
Rack E
36″ – 47″
Species: Mesquite
Thickness: 1 1/2″
Average Width:  13 3/4″
Length: 37 1/4″ 
$128.05
Species: Mesquite
Thickness: 1 1/4″
Average Width:  13 3/4″
Length: 44 1/2″ 
$99.59
Species: Mesquite
Thickness: 1 1/4″
Average Width:  15 3/4″
Length: 44 1/4″ 
$58.99
Species: Mesquite
Thickness: 1 1/4″
Average Width:  13 1/4″
Length: 35 1/2″ 
$76.56
Rack F
36″ – 47″
Rack H
Pecan