The following blogs will be a three-part series where we can dive into some great DIYs using some leftover branches and create some artful wood slices decor.
Welcome back to the continuation of last month's blog! Let's dive in and go over some great DIYs for leftover branches. This month we move up a level and show you some great wood decoration DIYs with medium-sized wood slices. Of course, you can do the same thing we suggested the previous month, but having a bigger canvas means there is more space to spread the creativity.
As mentioned before, you can get some wood turning blanks we sell here that would need to be sliced. They are medium-sized -between 4 – 5 inches in Diameter. You can also find them on Amazon, Michaels and with luck, at Walmart.
Using Medium Wood Slices
Let's raise the stakes. Lest use bigger wood slices to decorate your home, make a biggerer statement and make them part of your house's style.
Coasters
Just like decorating the smaller pieces, you can watercolor or sharpie them up, but now you have a bigger canvas and we can get more creative. Wood image transfer is a great way to skip the sketching and get a Picasso image right in your coaster. For this DIY you will need:
Medium-sized wood slices 3-4 inches in Diameter.
Wax paper
Regular printing paper
Tape
Plastic gift card
First, cut a piece of wax paper that is the same size as the regular printing pager.
Then overlap the wax paper on top of the regular paper. Holding it vertically, move the wax paper down about half an inch and fold it back. Tape the fold to the back securely. This bottom part will be the part of the paper that will go into the printer first, the tape secures the wax paper from moving around. However you feed your printer, make sure that the wax paper is the side that will get the ink. This variates from printer to printer.
Arrange your images in a Word document making sure they will fit inside your 3-4 inch diameter of space.
Before printing, damp the side of your wood slices where you will place the image.
Print your images and then carefully cut around them. Make sure not to touch the inch because it will smudge.
Place your cutouts upside down and gently rub the ink onto the wood with the plastic gift card. Avoid taking away or moving the image because it can smudge.
You can sand away any part of the image you don't like, like a smudge or a background color.
You can find the original DIY here.
String Art Ornaments
This kind of DIY can be a simple afternoon activity for your kids or it can become your weekend project. this activity can be as simple as or as elaborated as your creativity. For this DIY you will need:
Medium-sized wood slices 3-4 inches in Diameter.
Small nails (3/4 inch long)
Hammer
Thread, like Embroidery Floss
Ribbon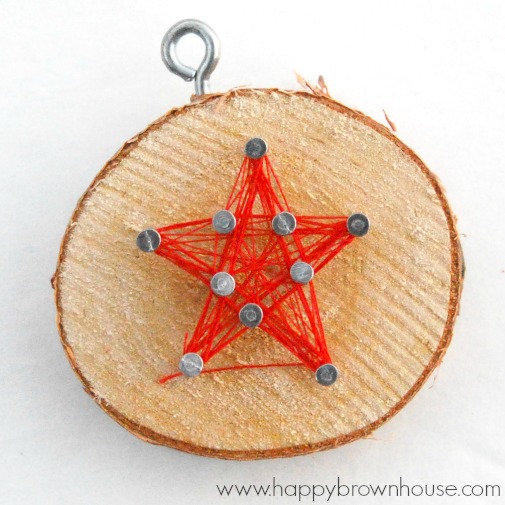 Lightly sketch the outline of the shape you want to make with your string art.
Lightly mark dots where you want your nails to be. For some figures the nails would go in the angles/points -for instance, a star but, for rounder figures -for example, a heart, multiple nails along the edge will create the shape of the figure. You can play with figures and the number of nails in and around your shape and can even create an even bigger design in a bigger piece of wood.
When you're setting the nails make sure to not go all the way through the wood. make sure to leave some space but the nails are secure enough to hold in place.
Knot a piece of thread around one of the nails.
Wind the thread around the nails. Follow the path, cross over, create a pattern with the string lines, go crazy and let your creativity flow and add multiple color strings.
When finished, tie another knot around a nail and trim the excess string. To avoid coming undone, dab a little school glue on it to hold it in place.
Screw a small eye hook into the top of the wood slice and string a ribbon circle so it can be hanged.
Aside from wall or Christmas tree decorations, you can put all these wood slices together. Instead of screwing a small hook to it, you can nail all the decorations together and make a wreath like in this Finding Home Farms tutorial. You can take this idea and develop it even more with this creative sign from Hey There Home.