Using Big Wood Slices
The following blogs are a three-part series where we can dive into some great DIYs using some leftover branches and create some artful wood slices decor.
Welcome back to the final three-part series of DIY decorations with leftover wood slices. For the past two months, we've dived into DIYs using smaller wood slices. That's all good and helpful when you have leftover branches form trimming a bush but, what if you come by some bigger branches? This DIY is for those one-in-a-long-while findings when you or a neighbor is cutting down a bigger tree branch. Alternatively, you can easily buy these bigger slices at a store, let's start prepping for bigger and better DIY decorations with even bigger slices.
Go big or go home!
Chalkboard Message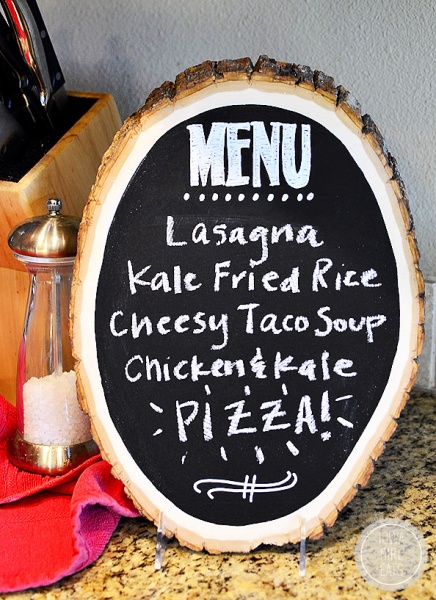 Make your season's decorations pop with a thoughtful message, announce the day's menu or just leave fun messages for your family. An extra plus is, you don't need a single bone of calligraphy experience on you to make these amazing messages. Here is what you'll need:
Before we start you want to make sure your wood slice is sanded down to a smooth finish. If you purchased the wood slice it most likely be sanded down already. But if you got it from nature directly, you want to make sure to do so. A smooth surface is recommended for the chalkboard paint. You can follow the original DIY Wood Slice Chalkboard tutorial here.
Using the Painter's tape, frame the area you want to paint with the chalkboard paint. You can make it a square or follow the edge or the wood slice.
Follow the application instructions of the chalkboard paint. Most likely it will ask you to paint two coats, one painting horizontally and another vertically, letting it dry in between coats. Finally, let it dry completely for 24 hours.
While it's drying you can look for a design you want to have on the board. Google a message you would like to transfer on to your board. You can look for "holiday calligraphy" or "kitchen typography." Alternatively, you can open a Word document and type your message using their fronts. We are going to use the image as a stencil, so you don't need to worry about the color or if the edges aren't sharp.
Before you print make sure to resize the message. If you chose an image you can open this image in Word or Photoshop and scale it so it fits the size of your wood slice.
Take your printed-out message and flip it upside down. Rub chalk all over the backside of the letters.
Flip it over again and place it gently over your chalkboard. Using a pencil, or a mechanical pencil with no led, trace the edges of the letters. Press hard enough for the paper to touch the wood but not too hard that you tear the paper.
Once you're finished, remove your stencil and you will be able to see the outlines transferred to the chalkboard. Grab your chalk and go over the letters once more and fill in any thicker letters.
As mentioned in the video, you can use chalk or a chalk marker, and wipe any excess chalk dust using a wet Q-tip.
Hanging Plant Stand
A little green in your house brings peace and helps clean the air.
This next DIY can make statement piece with just a few items. You can find the original DYI Hanging Wood Slice Plant stand tutorial here. Below is what you'll need:
This is a very small DIY but it takes a bit of labor:
First, you have to drill four holes in the wood slice. Use a drill bit that is 9/64 and 1/4 in size.
Pull all the ends of the suede strings through the holes and make a knot on the bottom. The suede strips will act like the straps to a bag. Whichever string you choose to use, make sure you will be able to tie knot that will work as a stopper and won't run through the whole.
Next, drill the plant hanger into your desired wall -whether you choose to place it outside or indoors. In the Original tutorial, the hanger was spray-painted gold, which made the planter stand out and look even better.
Last but not least, choose your plants. From the same tutorial, succulents were used as these can stay small and won't weight too much.