Mesquite floors are one of the mosts stable and durable hardwood floors you could add to your home. It is very resistant and thus it requires little to no effort to maintain.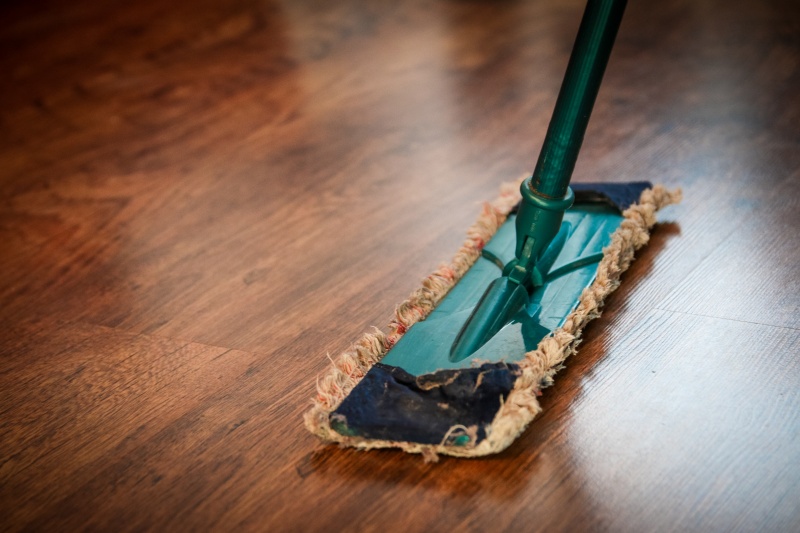 Essential Care
Just like any other floor, vacuuming or sweeping is a desired to keep regular maintenance and care. A soft-bristled broom keeps loose dirt from building up. When using a vacuum, make sure the power rotary brush head is deactivated to avoid scratching the surface. Dust particles can accumulate in the scratches on the wood's surface.
For periodic cleaning use a lightly water-damp mop. Water and humidity have an effect on wood. Make sure you don't soak the mop. Mop on the direction of the grain so dust particles don't get stuck in between crevices. If a spill occurs, clean it immediately. You can buy special cleaners for an occasional "spring cleaning" make sure you always follow directions according to the label.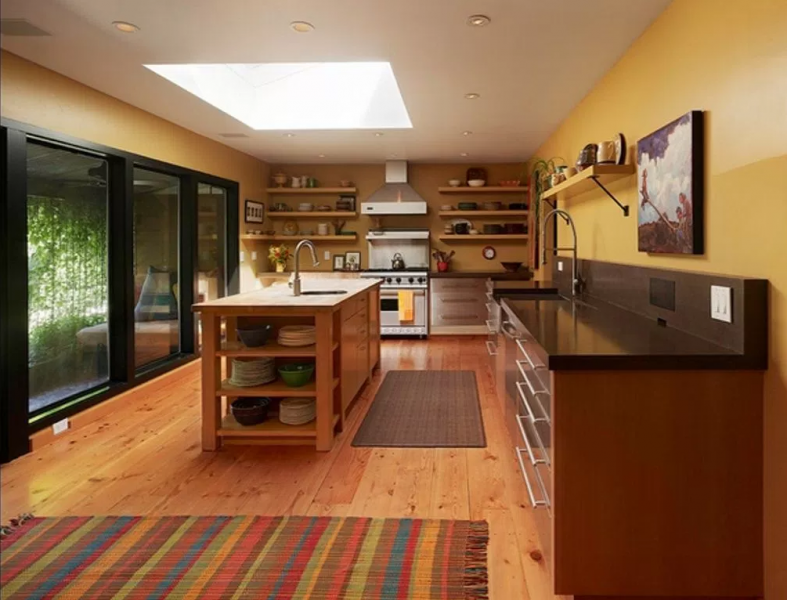 Preventing Damage
To prevent damage when moving furniture, use stick-on felt protectors under the legs of furniture. If you have pets, keep their nails trimmed to avoid scratching. High heels can easily dent the wood, enjoy your hardwood mesquite floor barefoot or lounge with your fluffy slippers. Place a mat on every outdoor entrance to stop dust or stains to track into your floor.
If you see these gaps during the winter, don't try to fill them in, the wood with expanding again in the summer. A humidifier can be used during cold seasons to prevent wood shrinkage and gaps.
To prevent aging and color fading, use protecting window curtains to block UV rays and excessive heat. On high-traffic areas, like the kitchen, place a rug under the sink to prevent wearing.
Every once in a while try rearranging the furniture around so the sun doesn't always hit the same spot on your wood floor. Move items around, try putting an armchair or, a rug with a side table or a lamp on top. Move sofas and rugs that always cover the same wood areas to other ones that aren't covered, this will help your wood always look even as the years pass. By moving things around you are giving your house a new look. It refreshes and changes the environment and style of the room.
Last Resource
Lastly, depending on your floor's wear and tear, you could give your floors a new coat. Even though it's not as big as the process of refinishing, it will still require time and to be done properly. Recoating hardwood floors can restore the look of the floor. Refinishing hardwood floors can be done around every 10+ years, this is the process of sanding down coating layers and staining them again. Sometimes you won't even need to refinish your floors, refinishing is mostly for floors that have deep gouges and the finish is mostly worn out.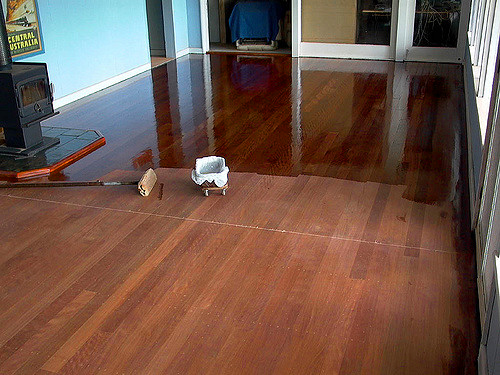 Overal you want to keep a consistent care that is as simple as a light sweep or vacuum. This will extend the life of your floor and push back recoating or refinishing them.
Sources:
https://www.mohawkflooring.com/flooring/hardwood/guides/hardwood-care-maintenance
http://woodfloors.org/maintenance.aspx
http://www.bhg.com/homekeeping/house-cleaning/surface/how-to-clean-hardwood-floors/
http://time.com/money/4282486/refinish-wood-floors-need-to-know/