You have many choices when it comes to adding your personal touch to the varied aspects of your home. Your house is unique to you, and you want everything in it to reflect your personality while also being made with the finest materials and workmanship available. That goes for everything from your furnishings to your countertops and even your stairs.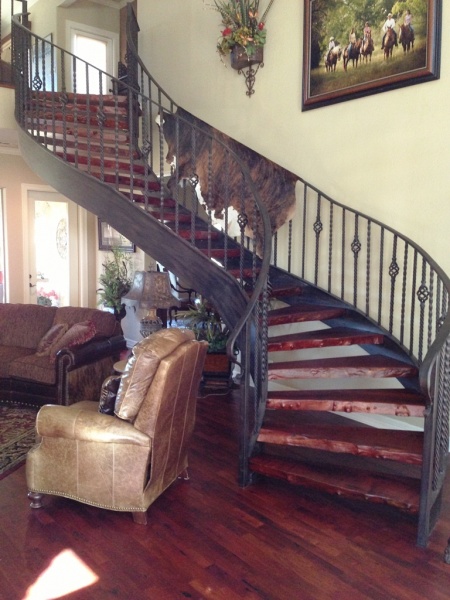 When it comes to stairs, you want to use a great product that will not only be able to withstand the weight of people walking on it but something that will also look great in your foyer, basement or living room. With that in mind, we at Faifer & Company recommend using a pleasant mesquite wood as part of your next staircase.
Naturally aged and rich in vibrant colors that are not always seen in lesser quality woods, mesquite wood is reclaimed from the Texas ranchlands and hand selected so that you aren't just getting any old piece. Only the most detailed and naturally pleasing pieces are selected, and that is one of the biggest reasons why you should choose this particular wood for your stairs. Whether cut and finished or left uncut to showcase the natural contouring and appearance of the wood, using mesquite on your steps is sure to give them a truly unique look.
Our mesquite woods create a vast selection of risers, nosings and reducers that are ideal for creating any staircase. We can work with you to create a stair solution that can be modified to fit any elevation, height or aesthetic requirements that you may need. We can do a standard or curved stair, or accommodate floating or spiral staircase varieties – all of which will leave your home looking like a million bucks.
At Faifer & Company, we provide a stellar workmanship and dedication to our products and our customers. Whether you are looking to redo your stairs with mesquite wood, add new hardwood flooring, want to add some custom furniture into your home, or are looking for some unique, hand-carved decor, we have got you covered.
Give us a call at 830-216-4189 to discuss your design needs, and we will be happy to work with you on the perfect mesquite products that will complement your home like nothing else can.