Woodturning is a unique skill that requires patience and, most importantly, vision. From identifying the piece of wood you want to use to figure out what you want to do, and finally visualizing the object.
Woodturning is simply the craft of creating wood pieces, either for decoration or for their day-to-day use, utilizing a lathe. A lathe is a machine for shaping wood, or other materials, by means of a rotating the piece being worked on, on one axis. With the use of different tools, a craftsman can carb into the rotating piece and create various outcomes.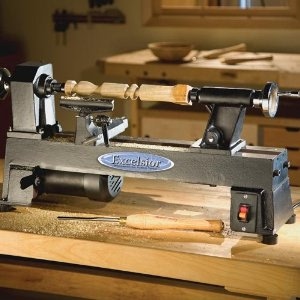 Most likely you'll think of a bowl when talking about woodturning, but there are a lot of things that can be done and you might not have noticed you have them around your house. These include wood spindles that can be used for railings, chess pieces, table or chair legs or old-style salt & pepper grinders and candlestick settings like the ones shown below. But those are not the only things craftsmen turn. The creativity can extend on to complex pieces of art that include putting together different wood species into a pattern or adding acrylic to pencils to create a very fun and colorful piece.
The holiday day season may have ended, but you can treat yourself to these woodturning blacks full of possibilities. We've got different varieties from Pecan, La Coma, Texas Wild Persimmon to, our favorite, Texas Mesquite.
Find them all, here.