Are you intimidated by the thought of installing a mesquite floor yourself? Installing a genuine mesquite plank floor is a whole lot easier than the stunning finished floor would make you think. Let's take a quick look at how easy it is!
Getting Started
If you're installing on a concrete subfloor (a slab foundation, for example), the first step – however unexciting – is critical: You must moisture test your surface to determine if it's dry enough for proper adhesion. There's a do-it-yourself method utilizing common household items that About.com suggests, but there are professional instruments made specifically for the job, and proponents of each method feel election-year levels of passion about their preferences. The import takeaway, though, is that if you discover your slab has too much moisture, you'll need to install a vapor barrier and subfloor before you get started.
If your slab is dry or after you've added your subfloor, it's time to get that floor down.
Day One: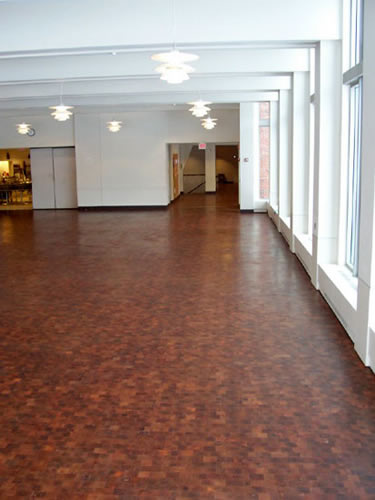 Float
First, apply a leveling product so your surface is flat, with a variance of 1/4-inch or less over an 8-foot radius. Allow it to dry according to package directions.
Install
Spread adhesive over a 2-by-2-foot area with a 1/8 x 1/4 x 1/4 inch notched trowel. Seat the planks in the adhesive, and repeat the process until the entire area is planked.
Roll
Using a 50- to 80-pound roller, go over the entire floor to ensure that the adhesive makes good, even contact with the flooring.
Curing
Close off the area to all foot traffic for at least eight hours – longer if recommended by the adhesive manufacturer. Allow the adhesive to cure overnight.
Day Two:
Sand and Fill
Use a coarse, 60-grit paper just to flatten out any protruding edges, and then apply a wood filler to any cracks. You can buy a premixed filler, but it's easy enough to mix up your own with a little wood glue and fine sawdust. For large cracks or knots, we recommend System Three epoxy. Allow the filler material enough time to dry before moving on to the next step.
Sand Again
After the 60-grit sanding and filling is complete, use an 80-grit paper to flatten out the filler you applied. Finish the floor by sanding with 120-grit.
Seal
Apply a high-quality sealant and finish to your new mesquite floor. Tung oil or hard-wearing polyurethane will enhance and protect your floor.
Relax
Sit back and admire your gorgeous custom mesquite floor.
It's really that simple to get results like you see in our gallery. For even more tips, check out our installation page. As you browse our gallery, make note of what speaks to you, and we'll zero in on the look and feel you want in your new custom mesquite floor.
Contact us today by calling 830-216-4189 and learn how our array of wonderful mesquite lumber, flooring and other unique products can help accent your home or workplace.