The right kind of wood can bring a living space together.
Used in the right places, in the right amounts, with the right finish, mesquite wood can add a rich tone to any room in the house. But how much should be used? And for which elements, flooring, furniture, or other accents such as countertops?
Along with the wood, we must consider the colors, textures, and shapes of the other features of the house, such as textiles, glass, and other materials. It's a lot to think about, but this is where we can really have fun creating a future home.
Where to Use Mesquite Wood
So where should you use mesquite wood in the home?
Because of the rich tone and texture of mesquite wood, it is used best in visible spaces. Countertops, mantles and tables are obvious spaces to display this kind of wood. If used in such a way, it is wise to get your mesquite wood finished properly to protect its color, texture and shape.
Next up is mesquite staircases, which can make beautiful additions to homes. As heavily foot trafficked wood, again the finish is important to maintain the woods integrity. Finally, mesquite wood flooring is another obvious way to bring together your home (for more specific information on how to install this type of flooring, read this article).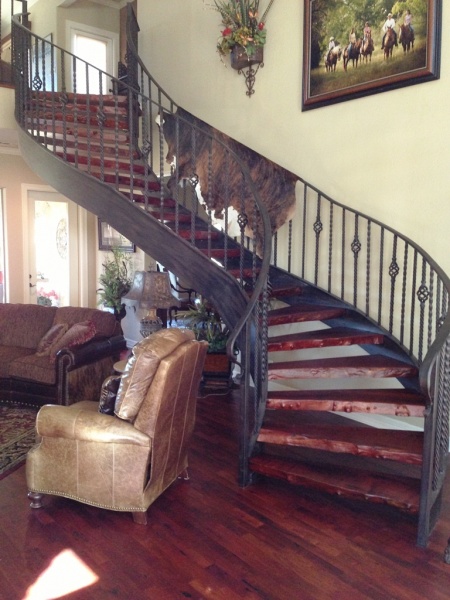 Matching Mesquite with Other Types of Wood
The key with using any wood in the home is how it is paired with other types of wood. From a purely aesthetic perspective, it is far more appealing to use more than one type of wood, as opposed to using just mesquite, or just oak.
Let's start with tone.
Most woods have either a warm, reddish undertone, or a grey undertone. Mesquite wood has a distinctly red undertone, and therefor it is best paired with other similar colored wood.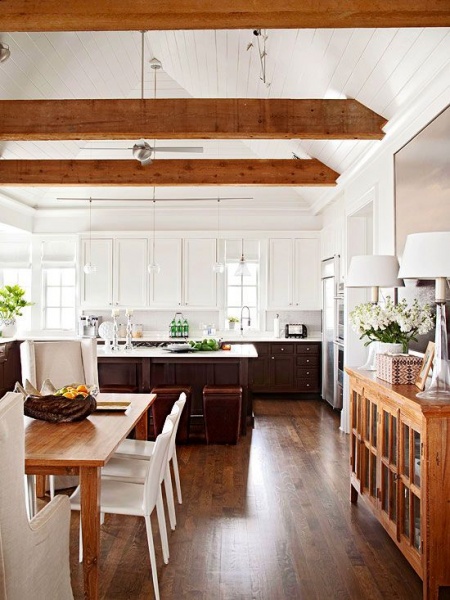 For example, if mesquite wood is used on your kitchen or dining room, use a similar colored or finished wood on window trims, cabinets, wall moulding, and other home decor.
Adding in the Extras
The best policy when choosing decoration in the home is to mix-match hard and soft textures. Wood is naturally a hard, flat texture. Naturally, soft and rugged rugs, pillows, and throw blankets are simple contrasting elements.
Shapes are also important. Wood is typically linear and rooms are typically rectangular or square. Help to mix things up with round objects such as bowls, plants, and curved or rounded patterns.
For a fantastic example, see how this house used a mesquite wood bookshelf in combination with multiple other elements.
Final Thoughts
Mesquite wood can rightly be the main attraction in any living space, but it should not be the only attraction. In isolation, mesquite wood is not enough to complete a room. But in combination with other woods, textiles, shapes, colors and textures, along with high quality finishing, mesquite wood is a beautiful, beautiful addition.
More Inspiration: